Over the past few decades, we have become accustomed to supply chain decisions focusing on cost reduction. However, with global economic, logistical, and social uncertainty at an all-time high, heads are now turning to an old topic: resilience. A highly efficient supply chain is not sustainable if it is exposed to a high risk of disruption.
Currently, the risk has been higher than ever; the COVID Pandemic has brought to the surface the inter-dependency of a global supply chain. The cross-continental flow of materials is unavoidable in the modern age to both unlock cost-effective supply and fulfil the insatiable demand of our global economy.
In this context, supply chain security must be considered at the centre of all business decisions. Identifying the right processes and tools is not only imperative in moving towards a more proactive approach to overcoming supply constraints, but also to predict and react to critical demand variances.
Global Shocks
The risks associated with global supply chains have been highlighted in the last 2 years: the Suez Canal incident in 2021 was estimated to obstruct ~12% of global trade and ~8% of international LNG freight each day. Port closures in China throughout the pandemic have driven up the backlog of ships in the region, elevating the ongoing impacts of COVID supply issues across the globe. As a result, we have seen extended timelines for freight arrivals, unprecedented port backlogs and costs raised to eye-watering levels.
Local Shocks
Australia has not been immune to supply chain challenges of its own. The recent impacts of flooding across South Australia saw West Australia's sole railway connection to the East severed for over 5 weeks causing shock felt by consumers and businesses alike. Typically, 80% of all land freight utilises this channel to access the West. On the East Coast, an extended and violent La Niña season delivered devastating flooding to the North and Central East Coast, further impacting critical freight supply lines. In this article, we will explore several strategies that can be deployed to mitigate the risk of supply chain shocks and manage their impact on your business. We will also talk about managing the surges or valleys in demand to minimise the effect on your working capital.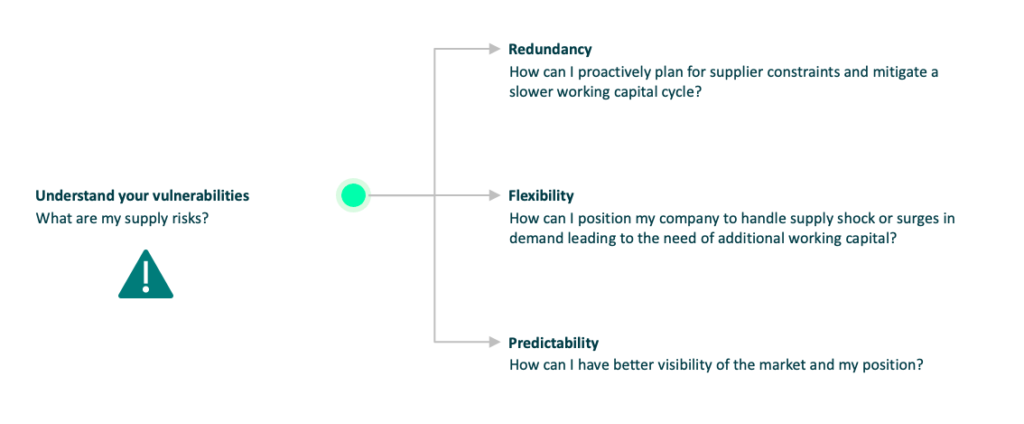 Understand your vulnerabilities
What are my supply risks?
Understanding your key vulnerabilities in supply is critical in developing your capacity to serve in a volatile market environment.
1. How globalised is your supply chain?
What geopolitical, environmental or social risks exist within your suppliers' markets? What is the likelihood that these factors will impact your supply?
2. How dependent are you on your current suppliers?
What does your supplier pool look like? What would be the impact on your business if one of your suppliers was delayed or unavailable? Would you have an alternative source?
3. How integrated are your suppliers with the global network?
Do you understand the network of dependencies that your suppliers have? What situations are likely to put their production at risk, and how probable are these?
4. Are you comfortable that your planning provides you with a clear picture of upcoming demand and availability of components?
5. How responsive is your supply chain to shifts in demand or supply in the short term?
Redundancy
How can I proactively plan for supply constraints?
Redundancy in supply, capacity and labour offer has long been a contentious topic for many businesses and has been viewed to have adverse impacts on your working capital, increase costs and reduce efficiency.
However, when taking a risk-reduction approach, informed by your business' key vulnerabilities, it can be a powerful tool in handling the initial shock experienced by supply shortage or surges in demand.
Re-evaluating your safety stock levels based on assessed supply risk can help keep capital outlays and additional costs at a minimum while increasing your capacity to serve in a volatile global environment. Additionally, risk assessed safety stock levels may find benefits in relatively secure components or intermediary products.
Implementing these assessments can begin by following a simple two steps framework:
1. Definition of inventory policies to specify what products are needed to be kept in stock and which ones should only be available once required; this redefinition must be defined by the combination of both the overall contribution to sales and the variability of the demand; irregular, low contributed items should be carefully reviewed to only keep those items that may influence customer purchasing behaviour.
2. Inventory parameter optimisation must be done frequently to achieve the desired customer service levels and to account for variability of lead times from your own suppliers. Evaluate the impact of targeted service levels on working capital and work together with your customers to re-align expectations if changes are required. It is also important to evaluate your supply options to identify vulnerable components of your business, allowing you to develop mitigation plans for supply shocks as well as build new supply relations that better suit your requirements.
Flexibility
How can I position my company to handle supply shock or changes in demand?
Variability of demand can radically impact the cash conversion cycle of a company when it changes in either direction. When an anticipated heightened demand is experienced as a result of panic buying, for example, potential increases in supply costs lead to the need for additional working capital. Still, when dealing with unforeseen declines in demand, critical suppliers may be unable to survive as the impacted cash flow disrupts the ability to meet even the reduced demand.
Align your strategy to your suppliers' pool
When experiencing these changes in demand, it is vital to recognise the value of having a diversified supplier base of which some are local suppliers. Your processes for onboarding and defining contract clauses with new partners and suppliers must reflect the flexibility your business needs.
Free up your capital
Aggressive demand changes require finding the right balance between your company's liquidity and your performance needs. Renegotiation of payment terms with both your suppliers and customers may provide you with mid-term solutions. However, considering all players in your supply chain ecosystem are likely experiencing the same demand and supply stress, this may not be feasible. This is heightened by the fact that under current circumstances, a change in just a few days of the cash conversion cycle average of 49 days for Australian companies means a massive impact on the sustainability of the business.
Alternatively, several FinTechs, such as Visagio's latest's venture V360, can play a significant role in providing liquidity to its members, where solutions can range in scale and complexity depending on the requirement. For example, a simple financial arrangement can be made to provide funding at an agreed discount to secure early payment where the amount depends on the measured level of risk.
Predictability
How can I have better visibility of the market and my position?
Investing in digital technologies across demand forecasts and supply constraints will enable you to extend your planning horizon, preparing for changes in your business.
Typically prediction has focused on the demand side. However, leveraging simulation to understand bottlenecks and the impact of identified risks can be a useful tool in informing your purchasing behaviour.
As part of any digital transformation journey, improving your demand and supply visibility should be a central focus to anticipate change and optimise your reaction from both an operations and supply chain point of view. This can help build risk mitigation into your decision-making process, often a deciding factor in whether a company will survive major disruptions like the ones we've been seeing.
Risk mitigation strategies to build a more responsive and collaborative supply chain should aim at coupling all the players in the supply ecosystem to create more visibility across the three value flows:
o Information flow
o Material & services flows
o Money & credit flows
To support these initiatives, it is fundamental to standardise your processes, bring long term and short-term planning closer together and upskill your team to unlock the opportunities across your business units or production lines.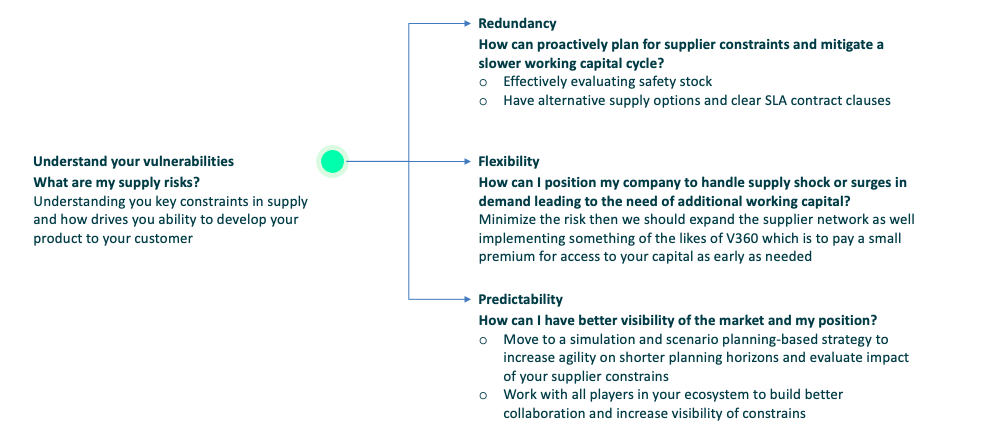 If you want to discover more about Visagio's Business Transformation Model, visit our Transformation Units page or get in touch at bt.australia@visagio.com.
In the meantime, please visit our previous shares on this topic: