Is your organisation thinking of launching a transformation program? Whether your business is looking to take results to a new level or react to a current crisis, there are a variety of topics that need to be considered to set your transformation program up for success. Foundational work is key for driving change, but what does that mean in practice?
Rethinking your business model is at the core of business transformation and is an important part of inspiring change; it aims at improving your organisation's value(s) proposition, customer channels and relationships, segmentation, internal processes and allocation of resources.
Redesigning your way of doing business can be hard. There are 2 steps to make sure your business has a clear vision and uses its strengths to meet market demands.
Key mechanisms and activities which can help you achieve this are customer interviews, empathy mapping, and NPS implementation and analysis. Keep your company close to the innovation ecosystems and constantly ask yourself whether the innovation being pushed affects your customers and how they interact with your business.
From there, move to understand your internal differentiators by comprehending what your organisation can do like no other. Figure out your strengths and differentials as a company; is it your people skills and culture? Is it your customer base? Is it your customer channels and capillarity? Is it your brand strength? Or is it your access to capital? From these reflections, a clear and concise vision should be defined, which will be the basis to determine your long-term goals and provide direction to the company.
What mindset is needed?
To get transformation ready, our experience recognises 6 fundamental pillars that form the backbone required to support your organisation's transformation.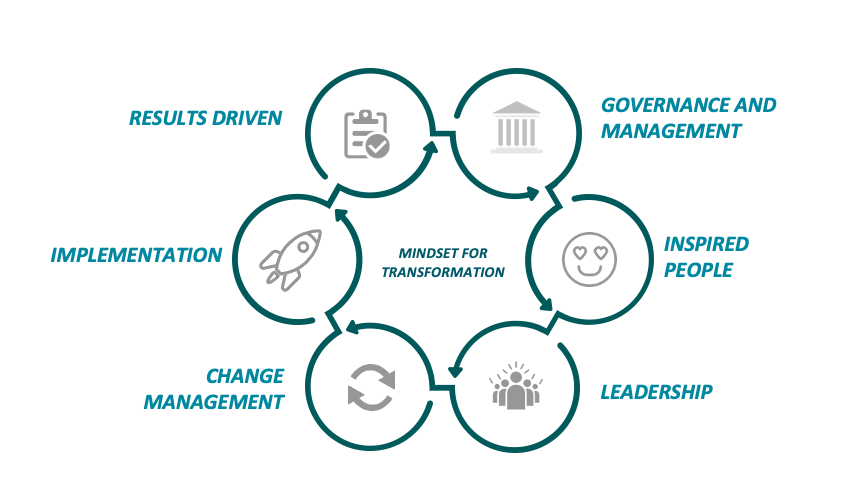 Inspired People – every transformation starts and ends with your people; it is extremely important they buy into your transformation program's objectives and remain engaged, and feel part of the process. Define clear individual objectives and be very open about why you are launching the program. People are much more likely to help if they know what the end state looks like.
Leadership – No transformation methodology or vision is enough if your leadership cannot execute on the day-to-day. The biggest challenge is not to get lost with so many opportunities uncovered during a transformation program, so make sure you allocate leaders with excellent prioritisation skills.
Change Management – transforming your business means shifting the way your team's day-to-day life at the office is. Resistance to change is inevitable, so have a clear map of internal and external stakeholders and define a customised communication plan for each one.
Implementation – this is effectivity your tactical plan to get the strategy off the ground and into the daily routines of your organisation. A strong gap analysis will support the planning and prioritisation of actions. Don't start several streams at the same time, and make sure the team is focused on getting each step correctly finished.
Results-driven – performing an initial diagnostic of your business for each of the 3 pillars of our methodology – profitability, cash flow and sustainability – will not just enable your business to define a baseline but also to outline specific targets, identify quick wins and measure the impact of your transformation based on the results achieved. Constantly measuring results help keep the momentum and enables you to identify failures quicker and move on from them.
Governance & Management – defining appropriate ways of working via routines, roles and OKRs will guarantee the successful delivery of business value while maintaining accountability and minimising risks of adoption.
Finally, don't expect to replicate other businesses' paths. Embrace your own specificities and use your strengths as transformation and disruption can come from different parts of your business model.
Visagio's expertise
Visagio's experience includes a range of successful cases with varied types of disruption models:
•          Front Stage disruption – who is your target customer, and how is the value delivered to them?
We participated in the design, implementation and roll out of a sales promoter model providing a 2MAUD financial benefit and enabling a family-owned food industry company to be acquired for 400MAUD+ making it the largest sector acquisition in their country's history.
•          Back Stage disruption – can we change how value is created?
We participated in creating a Machine Learning Factory focused on the development of models for a mid-size telecom company with a potential benefit of 11MAUD impacting its valuation on a magnitude of 4x before being sold to the major player in the region.
•          Profit line disruption – How can we focus on improving bottom-line results?
We supported a major player in the manufacturing sector with the implementation of more than 15 work fronts covering sales, logistics and operations as a holistic approach resulting in an increase of EBITDA of 38% and a reduction of 46% of working capital.
Over the following weeks, we'll deep dive into all areas of the business model and the actions we take to uncover new value and transform a company's mindset to reach new heights.
In the meantime, please visit our previous shares on this topic:
•          Bringing Transformation to Life – exploring what transformation means for your business and sharing the pillars and framework we have designed to help you in your transformation journey.
•          When continuous improvement is not enough – when is it time to revolutionise? Explore our webinar 'Taking the first steps of your business transformation journey from the eyes of 2 industry business leaders.
•          When is the time and how to start a business transformation? – a share on how internal and external pressures may lead you to rethink your business model, and an insight into the critical steps for business continuity and recovery.
•          Diagnostic – helping you identify strengths and opportunities related to strategy, process design and structure to identify your starting point and map gains to be achieved.
If you want to discover more about Visagio's Business Transformation Model, visit our Transformation Units page or get in touch at bt.australia@visagio.com.