In today's fast-paced digital environment, organisations established decades ago are feeling the pressure to innovate and keep up with the competition. The ever-changing landscape of technology presents both challenges and opportunities for businesses to adapt and thrive. Digital Maturity Assessments offer a strategic approach for companies to navigate these complexities, providing valuable insights and guidance on their digital transformation journey.
Access our Digital Maturity Self-Assessment tool to understand where your company sits in the Digital journey.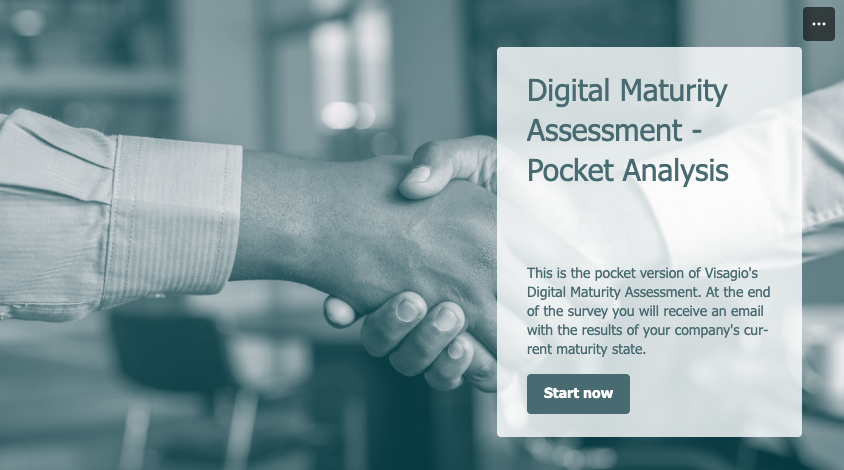 Why invest in a Digital Maturity Assessment?
The ability to swiftly adapt and implement changes is a key characteristic of successful organisations. Swift responses to situations like production line breakdowns, changes in product requirements, or economic crises can greatly influence a company's profitability. Insufficient integration of information systems often causes delays in making business decisions, which hinders the smooth processing of data from capture to analysis. In addition to technological opportunities, organisational structure and culture play vital roles in ensuring a successful transformation.
Digital Maturity Assessments provide organisations with a comprehensive understanding of their current digital landscape, identifying areas of strength and opportunities for improvement. They are beneficial for all companies, regardless of size or current digital capabilities. By evaluating the organisation's digital capabilities across various dimensions such as technology, processes, and culture, Digital Maturity Assessments help companies develop a clear roadmap for their digital transformation journey. This strategic approach enables organisations to prioritise investments and initiatives, ensuring that their resources are allocated effectively to drive the most significant impact.
A digital maturity assessment is typically conducted by a group of digital transformation experts who ultimately create a roadmap to guide the organisation towards becoming a learning agile company. Depending on the outcomes of the digital maturity assessment, companies gain valuable insights and guidance on which initiatives will better help drive future decisions.
Assessing an Organisation's Digital Maturity
To measure a company's digital maturity, the main steps required are as follows:
Understanding Corporate Strategy and Aims
Implementing Methodological Analysis
Designing a Roadmap
1- Understanding corporate strategy and aims
To effectively conduct a Digital Maturity Assessment, it is crucial to first comprehend the organisation's aims and objectives, identify priority areas, and determine the key performance indicators to evaluate.
Value Driver Trees (VDTs) can address these questions by offering a visual representation of the organisation's value drivers and their relation to digital transformation. With the root representing the organisation's goals and objectives, VDTs branch out to cover different value drivers that can be further subdivided as needed, as shown in the example below.
By grasping the organisation's core purpose, digital maturity assessments can target the central issues, enabling the company to make informed decisions on resource allocation and maintain focus. Establishing a clear scope for the assessment is essential, and various techniques can be employed to concentrate on specific departments or business dimensions, such as customers and operations.
2- Implementing Methodological Analysis
Evaluating the organisation's current maturity level is vital to identify gaps and opportunities. Data collection can be facilitated through interviews, questionnaires, feedback surveys, and workshops. Through these methods, a wide array of stakeholders can be engaged, providing a well-rounded view of the organisation's digital maturity.
These results are then benchmarked against industry standards to determine the organisation's digital strengths and weaknesses. It is important to recognise that low maturity in certain areas does not always necessitate immediate action; other areas with higher value potential may be more beneficial for the company's growth.
3- Designing a Roadmap
During the digital maturity assessment process, various opportunities and initiatives for improvement will be uncovered. These opportunities should be scoped and prioritised based on factors such as potential value, ease of implementation, and alignment with company goals. This prioritisation helps create a digital maturity roadmap that enables the organisation to stay ahead of the curve or keep pace with industry standards. Priorities may be adjusted as needed, taking into account the company's strategic direction.
This roadmap, which includes specific recommendations for future growth, shapes the organisation's trajectory. It is crucial to recognise that the digital maturity assessment is an ongoing process, and the company's goals and priorities may evolve over time. As a result, regular reevaluation of the roadmap and plans is essential for continued success. Utilising the established baseline allows for tracking progress and capturing long-term improvements effectively.
Conclusion
In conclusion, the digital maturity assessment serves as a critical tool for understanding a company's strengths and weaknesses within the digital landscape. Whether conducted internally or with the aid of external consultants, it establishes a solid foundation for growth and prosperity through digital transformation.

For organisations navigating the complex challenges of an ever-changing digital environment, a Digital Maturity Assessment can prove to be a game-changer. By offering a strategic roadmap to guide digital transformation efforts, companies can harness their full potential, allocate resources effectively, and excel in today's competitive market.
Further reading
What are the Digital Maturity Levels?
The analysis conducted during the Digital Maturity Assessment assigns them to one of five maturity levels. By pinpointing the current position of the organisation within these levels, a clearer understanding of the necessary steps towards digital maturity can be obtained.
Collect
The collection of data for processing is the basis for digitalisation. In this stage, data is often held in a decentralised silo, leading to issues with a single source of truth. Some areas, such as production, logistics and services, might have minimal data collected. Additionally, data visibility can be limited due to access constraints and domain system understanding. In order to become a digitally mature and agile organisation, it is essential that relevant data is provided throughout the business.
Describe
This stage is where basic analytics is applied to democratise access to data, enabling personnel in the organisation to make data-informed decisions. For instance, real-time KPIs and dashboards can quickly identify delivery date variances, allowing production managers to adjust plans and keep customers and suppliers informed.
Discover
In this stage, patterns and correlations are observed and analysed, allowing the company to understand why something is happening and supporting complex and rapid decision-making. Technologies that support the analysis of large volumes of data, such as Big Data, can be very helpful in these scenarios.
Predict
In this stage, past observations are used to guide future decisions. The company is able to simulate a variety of different future scenarios in order to anticipate problems and take appropriate actions to mitigate them. This results in robust business operations, reducing the number of disruptions and planning variances. Once companies are able to anticipate future events, they must also be prepared to take any measures required to minimise the potential negative impacts of these events – these are still going to be done manually.
Prescribe
This stage automates actions and decisions. Continuous improvements and automation will enable the company to rely on predictive analytics and delegate certain decisions to IT systems so it can adapt to the changing business environment more quickly and accurately than a human being.
---
Are you ready to assess your organisation's digital maturity level?
1- Visit the portal to access your Free Digital Maturity Assessment.
2- Answer a few simple questions about your organisation's digital landscape.
3- Receive your personalised, high-level results INSTANTLY. This is the first step to understanding the next actions for your organisation.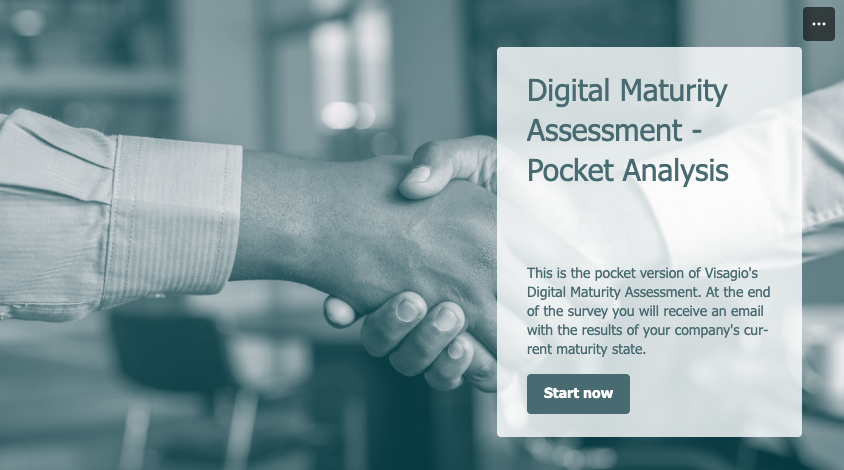 About the authors
Kung Yan Toong is a Visagio consultant with experience in data analytics, process automation and optimisation with a contextual focus on the mining industry. He comes from a background in Civil Engineering, having completed a Master of Professional Engineering at the University of Western Australia. He has worked on initiatives to advance fleet decarbonisation and digital supply chain acceleration efforts for a tier 1 mining company.
Monica Aoki is a Visagio consultant with experience in Machine Learning and Data Analysis. She comes from a background in Engineering, having studied at the University of Campinas, Brazil. She has recently been involved in a project to drive digital acceleration within a tier 1 mining company by expanding the analytical toolkits and improving current processes.
Eduardo Possato is an Associate Partner at Visagio, based in Sydney. With a background in Control and Automation Engineering from the Universidade Federal de Santa Catarina, he has extensive experience in Digital Transformation focused on bringing business sustainability. He is also passionate about building high-performance teams and leveraging data analytics to optimise processes and enhance operational efficiency.

Bulbul Thirumaran is a Visagio consultant with experience in Digital Transformation, Process Improvement, Web Development and Data Analytics. He has worked in the mining and logistics industries and has recently been involved in a project to drive digital acceleration within a tier 1 mining company by improving the company's maturity in processes, data analytics and digital infrastructure. He holds an honours degree in Mechanical Engineering from The University of Sydney.