The importance of a Centre of Excellence in the reduction of operational risks and inefficiencies from a lack of control
The automation of processes has been drastically changing how organisations work. The key trend across the world is the "robotization of processes", known as Robotic Process Automation. This technique involves the use of "scripts" – sets of coded instructions – to represent and execute activities that a human operator would conduct as a matter of routine.
RPA has garnered a great deal of attention because of the benefits it brings to operational efficiency. This is mainly due to its nature as a dynamic approach, enabling the reduction of personnel-related costs. Moreover, it can increase the quality of the work carried out, given that it is less susceptible to errors in repetitive processes.
---
Would you like to know more about RPA?
Read more in our insight: Why does RPA-based automation increase efficiency?
---
However, as it is a relatively new approach for organizations, RPA typically starts with processes that lack the necessary detail to ensure that errors are mitigated and risk is reduced during the development and operation of the automated "bots".
The Need for Governance
Without a structure to control it, automation becomes more responsive – more agile – and less bureaucratic. However, that lack of a clear governance increases risk when automation is expanded and used more widely.
As the bots are highly flexible, able to be applied in many situations, several firms incentivize the development of new bots in any area of the business. Because of that, there is a tendency to think that RPA doesn't require a high level of involvement from the IT team; this can be a trap.
Bots can access corporate systems and the lack of governance can result in issues that directly affect the company's operations, such as failure of a critical platform. In one actual example, a major banking firm employed a bot to capture information from an internal portal and this was copied to other parts of that business with a view to improving the efficiency of the group. When the bots operated simultaneously, the number of transactions taking place in a short amount of time overloaded the portal and it failed, interrupting access to that system more widely.
To avoid such risks, process automation programmes need centralised control and a robust governance. Without those, they become a series of uncoordinated projects which direct bots to carry out activities sub-optimally, with overlapping solutions and using different development and technology standards; these all restrict the scalability and control of RPA. Moreover, it introduces information security risks as well as potentially polluting corporate systems with electronic garbage, as the bots carry out their activities in batches. When there is a problem, this may only become apparent once the process has finally been completed.
Deploying Governance via a Centre of Excellence
One proven way to implement centralised automation management is via a Centre of Excellence (CoE). This body ensures that best practices are used in the development of reusable solutions and that the use of bots doesn't increase negative risks for the organization.
There are three potential structures for a Centre of Excellence: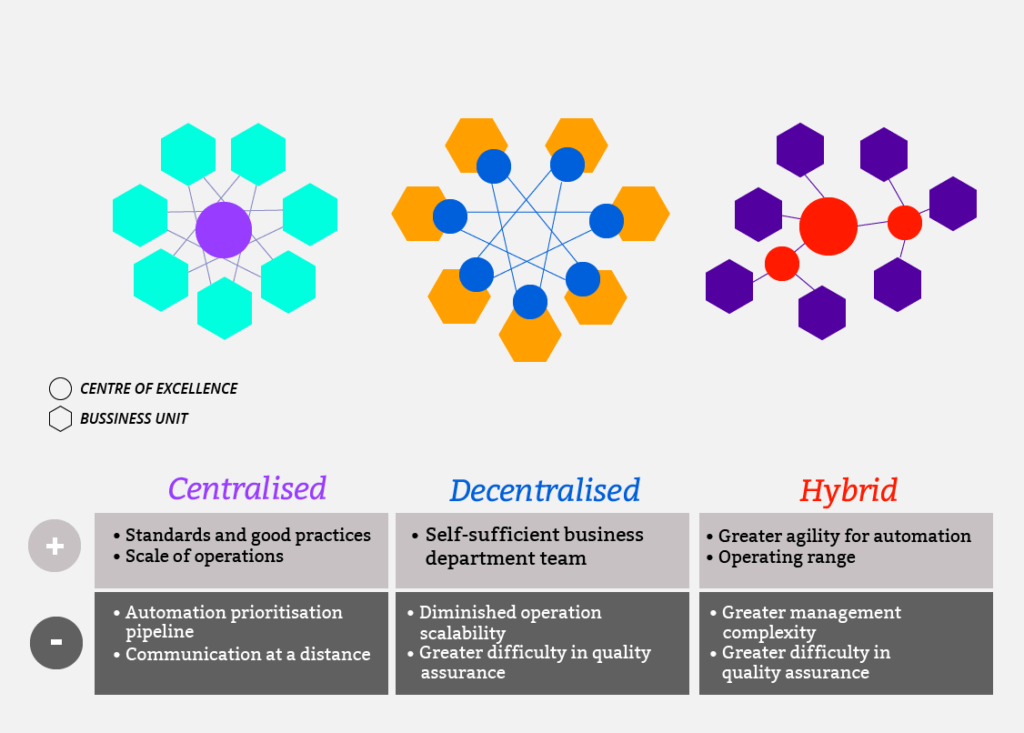 The responsibilities of a CoE will depend on the exact governance model used; however, the most common activities include:
Drive process automation in the business, training teams and increasing awareness of RPA in those
Evaluate the criticality and quality of the developed solutions, ensuring that best practice is applied
Monitor the operation of bots and guarantee that execution SLAs are met
Follow and report the main development stages
Guarantee the execution of established governance processes
Guarantee the continual improvement of processes and tools
Other key aspects and observations
1) Catalysing oversight
Robust supervision and a security policy are fundamental to ensuring that none of the tools and infrastructure involved in the development of bots are harmed and that they don't infringe the company's policies. It is worth noting that, in order for the evaluation of quality and criticality to not become a bottleneck and demotivate functional areas to use automation, the team conducting the assessment needs to be appropriately resourced.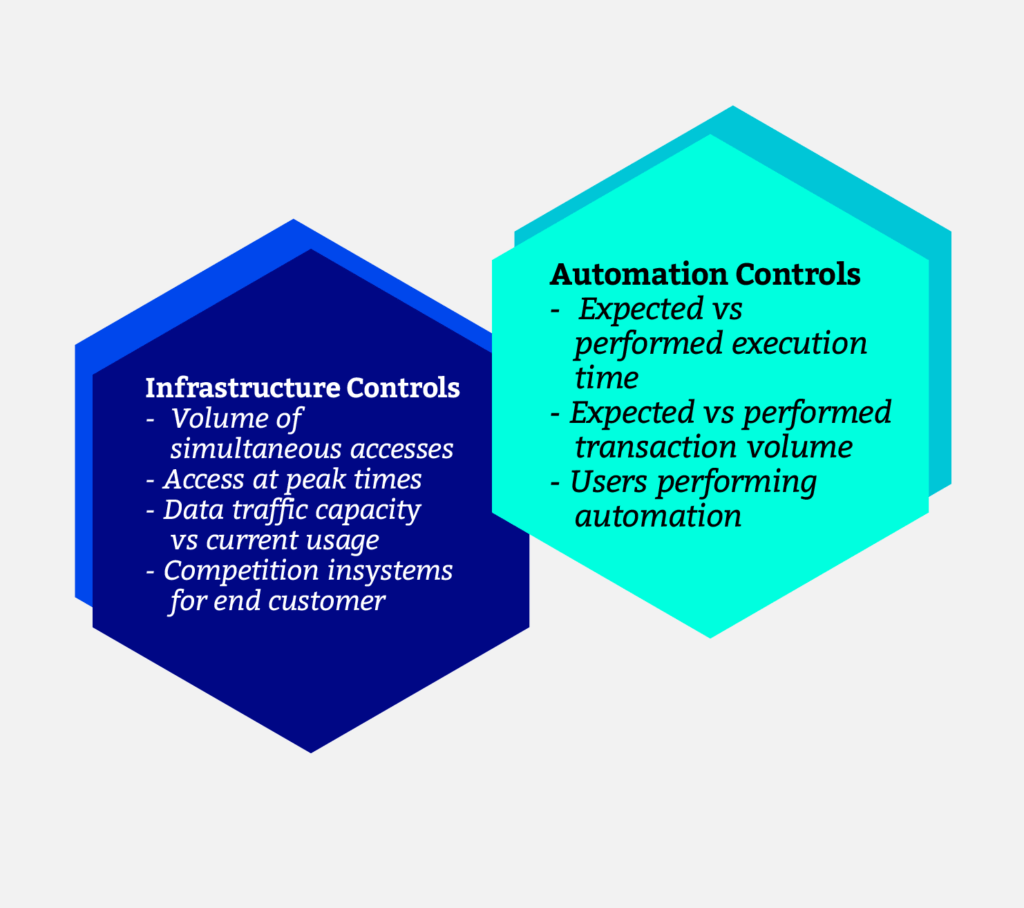 It is vital that every process automation that interacts with the business's systems – which are susceptible to fail in the face of a high volume of calls on them – undergo a validation of the times and volumes that are forecast for them.
2) Sharing of best practice
In order to assure the improvement of knowledge management and the wider adoption of best practices, the CoE should promote initiatives to share content. One of the most effective means to do so is through "code libraries" which drive new developments and reduce rework. To do so, the CoE should not just act to quality assure code: it also is responsible for following the development of RPA projects, aligning them so that there isn't more than one automation conducting similar activities. With a structured and monitored workflow, the replication of confirmed content increases business efficiency without increasing operational risk.
Suitably scaled
RPA may be realized in a centralised, decentralized or hybrid manner. Independent of the chosen model, it is critical that there is a well-defined governance overseeing the development and operation of bots. This will provide assurance of the quality of that automation, minimizing risk and avoiding rework. The challenge comes in balancing a workable governance with the agility needed for process automation. Whichever way that is done, that governance (whether in IT or not) needs to be appropriately scaled, creating the right policies to support bot development across the business's functional areas and, through that, to get to an ideal system.
---
About the authors
Vinicius Rodrigues is a Visagio consultant and a specialist in process engineering, analytics, budget management, supply chain and operations, particularly in the retail, FMCG, health, mining and banking sectors.
Djalma Cunha is a Visagio consultant and a specialist in logistics, supply chain and operations, process reengineering and data analytics, having delivered projects in these in the retail, banking and mining sectors.
Monique Reznik is a Visagio consultant and a specialist in process optimization, shared services, budget optimization, logistics and analytics in the retail, banking and real estate sectors.