The right people, at the right time, in the right place
To exist, produce, and prosper, a company needs more than efficient production or continuous innovation. It needs people! People are the ones who help build it and are behind all of the company's results. That said, companies that wish to evolve must focus their efforts on attracting talents, because they will ensure a sustainable competitive advantage over their competitors.
Talents are able to create new products and service, improve internal processes, suggest actions to position the company ahead of the competition, and win over customers. These are the people who promote change and give purpose to organisations. Therefore, the management of talents needs to ensure the right people, with the right qualifications, available at the right times and right places.
Attracting and selecting talents
Attracting talents is a very important strategic process for the company's longevity vision. When properly accomplished, it fosters committed employees and results in retention.
With the aim of elevating the company to the next level, by achieving stipulated growth targets and guaranteeing the qualification of successors, the leadership must actively participate in this process, selecting people with the potential to be better than them.
Leaders are responsible for developing these talents and motivating them so that they will be able to replace them in the future, providing opportunities that raise them to levels they did not think they could achieve, exceeding expectations and taking them out of their comfort zone.
An important way of attracting new talents is the selection process for interns and trainees. This process allows highly qualified young people to absorb values and culture from the beginning of their professional career, by training technically qualified professionals culturally aligned with the company.
Learn more:Employer Branding – Corporate brand management for the job market and for your own employees.
Employer Branding and Employee Value Proposition (EVP)
A key point for promoting the company as an employer is the development of its Employer Branding. Upper management should participate in the project to create its corporate brand and be involved in reflections on the positioning of the company to attract, engage, and retain talents in the short and long term. The result of this exercise is image strategies, the type of reputations that will be passed on to the market, and initiatives that involve organising events at universities and talents pools with the participation of young talents in the company to inspire candidates.
The company's Employee Value Proposition(EVP) is associated with Employer Branding in building the perceived image of the company as an employer, i.e., what value the company offers to its employees in order to attract talents who are motivated to work within their culture and practices. An EVP conveys to current and potential employees the reasons why talents would like to begin or continue working for a company, helping differentiate the organisation from competitors. In short, the EVP should act as a magnet for attracting people to the company from the market.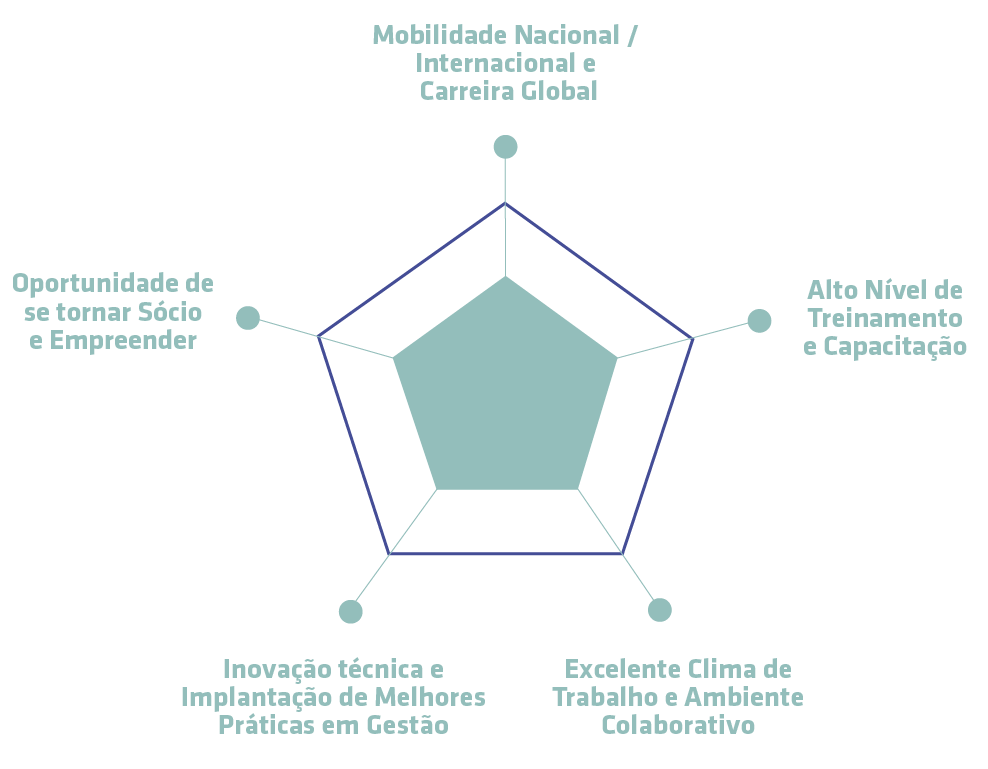 ---
Source: Visagio (2016)
Training and Development
People are responsible for making the company's strategic plans materialise, and to do so, it is imperative that an effort be made to train and develop them. The People and Management model involves structure training and development programs, keeping in mind the company's strategy, its mission, its values, and staffing needs. These programs must be jointly prepared and conducted by Human Resources and by management, who know the skills and development points of employees in a certain area.
As an example of an initiative aimed at training employees, we can mention corporate universities with a tailored program, that include the presence of company leaders and external lecturers. This program assigns learning solutions according to the employee's level within the organisation, reducing costs by the scale of contracting and standardises the process of transmitting knowledge.
With a focus on the development of employees, mentoring and coaching programs aim to direct an employee's career and align it with personal aspirations and goals. Mentoring is a form of tutoring, where a more experienced professional who has a strong alignment with the organisational culture, usually a leader or manager, guides talents who are beginning their careers, acting as a reference, helping them overcome the main difficulties and barriers that may be hindering their success, exchanging experiences and transferring knowledge acquired throughout their solid professional trajectory. On the other hand, coaching is a process of speeding up results, consisting of developing skills and abilities to reach defined targets within a specific timeframe.
Workforce planning (Sizing)
To ensure "People Readiness", it is necessary to think of both the profile and the number of people required for each position. Planning the need for people for each position and role for the next terms (plan for up to 5 years) must originate in strategic plans and in the production of business units. The basic tenet of the Workforce Planning methodology is based on identifying future gaps in the labour supply and suggesting initiatives to cover these gaps. Demand and supply analyses can be divided according to hierarchical level and specific data analysis and simulation tools can be used to create supply and demand curves for each position. For more strategic levels, such as the board of directors, it is advisable to conduct a nominal analysis for succession. Mapped successors will have development plans that should consider career differentiators, as well as the improvement of core competencies and leadership.
Internal Recruiting – Leadership
Aiming to make the most of the organisation's human potential and to guarantee leaders with well-developed organisational culture and values, the People and Management model recommends that the majority of leadership positions be filled via internal recruitment. This type of selection encourages the career advancement of both those receiving the opportunity and of other professionals, who see this model as motivation, encouraging their professional development and increasing their level of involvement. In addition, it provides a selection of candidates aligned with the company's culture and costs less than external recruiting.
---
About the authors
Janaina Jacobs is a Visagio consultant, specialising in projects focusing on process engineering, organisational transformation, and implementation of a shared services centre in the real estate, retail, healthcare, finance, and telecommunications sectors.
Marcela Figueiredo is a Visagio consultant, specialising in projects focusing on management models, organisational transformation, and process reengineering in retail, financial markets, and public management, among others.