Technology advances such as the Internet of Things (IoT), Artificial Intelligence (AI), Big Data, among others, are revolutionizing the how businesses operate and they are contributing to the emergence of "Supply Chain 4.0": faster, digital, more efficient and highly accurate compared to traditional supply chains.  These changes have increased  customers' demands and the pressure to reduce costs, adding complexity to the challenge of maintaining competitive advantage.
Among those innovations, one in particular is now proven to help to navigate through the complexity of supply chains. Control towers are a new management model which enable the monitoring of end-to-end operations, providing managers and decision makers with more visibility and control. Supported by traceability systems, a Control Tower provides data which allows for issues to be resolved faster as well as contributing to their prevention. Moreover, they enable planning to be more proactive; in short, control towers increase productivity and service levels.
Beyond a simple matter of technology, the implementation of a control tower presents a considerable challenge to change mindsets, as its interfaces and performance go beyond operations, involving the different functions of an organization. In light of that, the concepts of collaboration and performance management are highlighted in this new strategic model.
How does a Control Tower work?
The scope and management of a control tower will vary form company to company. Despite there not being a common model, a control tower can monitor a road freight delivery and/or collection operation, or the lifecycle of a product, as well as many other applications.
The figure below summarizes potential models from two perspectives: dealing with problems and producing data for analyses.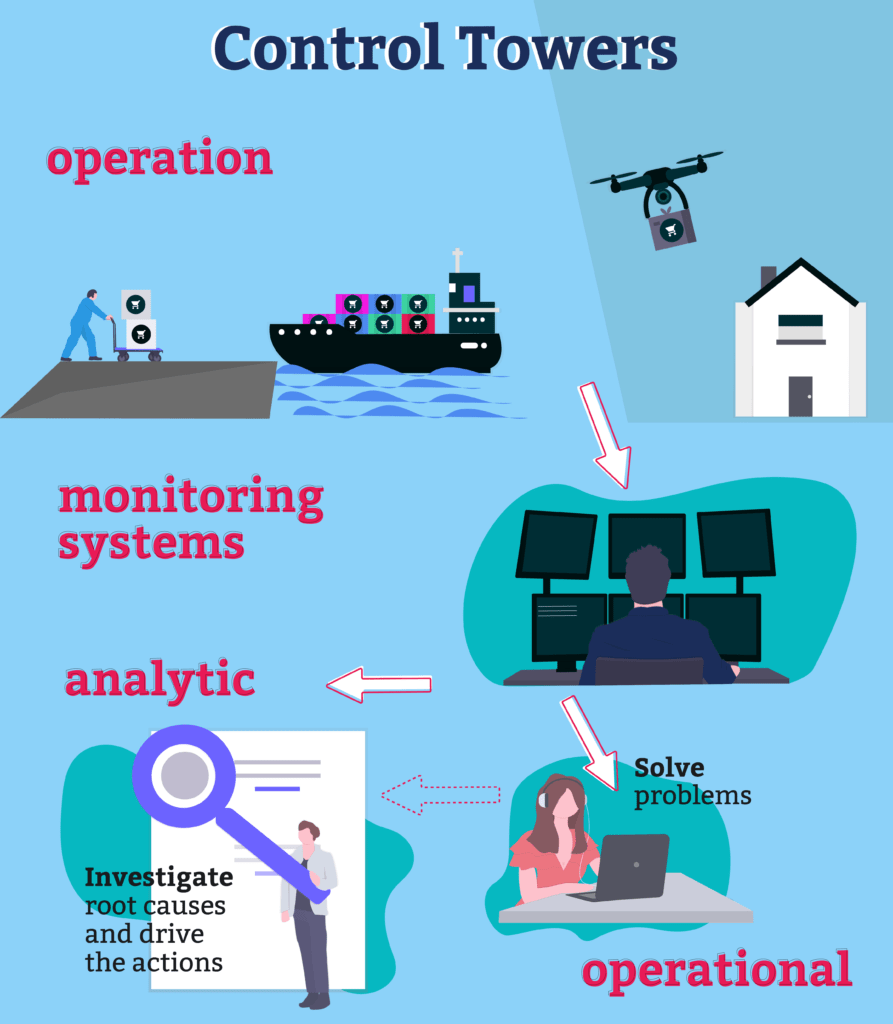 At the heart of the control tower is the operations function, covering dedicated resources for monitoring and overcoming problems. Those carry out control in real time, working to the plan and reporting deviations. This enables faster identification and resolution of issues to make the operation more productive with higher service levels. For instance, a truck which faces a problem can take three times as long to complete a loading operation if there isn't a proactive management plan in place. This arrangement has the necessary data and information to act and minimize these deviations from the plan.
For that to happen, it is vital that processes are well-structured with clear definitions of the roles and responsibilities of those involved in the operation. The flow of information, triggers for taking actions, the level to which problems can be resolved and identification of who is responsible for taking those actions are all essential for the success of a control tower.
In this context, establishing triggers is a fundamental point. These alerts enable the monitoring of the operation and help operators to prioritise actions and to know when to intervene. Moreover, metrics must be defined well enough to not create unnecessary warnings that don't actually identify inefficiencies in the process.
Complementing the operational area, there should also be an analytical function, which may or may not be within the structure of the control tower. This area is responsible for analysing all the generated data to identify the standards required for root cause analysis of problems. While the operational area acts on the resolution of problems, the analytical area works to avoid problems, being responsible for changing the level of performance in the organization.
Which systems support a control tower?
One of the pillars of a control tower is the traceability system, given that it enables monitoring of the operation.
A robust system has a different set of requirements of the technology used, such as the functionality to allow for effective real time monitoring, sufficient intelligence to create triggers and to treat data, as well as having a user-friendly interface to work the system.

However, a look at several companies with a strong logistics bias highlighted that there remains a low level of maturity of technology-based monitoring systems.
Many firms still don't have any system that allows for monitoring, while others have systems with little intelligence and low levels of automation. It is clear that there is a large gap in the market, with only a few suppliers offering low maturity solutions.
However, companies that are moving to change this situation are emerging, investing in new technologies and developing customized systems. Companies like Unilever, P&G, L'Oréal, Klabin, Rede and Raízen already have control towers in their organisations, driving the market to deliver new technologies.
The development of control towers is directly related to the application of technology to operations, becoming a logistics trend and promoting competition between companies. Undoubtedly, there remains a vast arsenal of possibilities to be explored in the area of automation of decision making and intervention in operations, both of which remain limited in most companies. However, there is no denying the results and efficiencies that can be obtained by those who can overcome those technology and implementation challenges.
External References
[1] Log Web (2019) Torre de controle em "supply chain". Já ouviu falar? Source: http://www.logweb.com.br/colunas/torre-de-controle-em-supply-chain-ja-ouviu-falar/
---
About the Author
Ana Pantaleão is a consultant at Visagio, a specialist in logistics, supply chain and operations, having worked in operational and support functions in Retail, Banking, Oil & Gas, Mining, and other industries. She has a Master's degree in Supply Chain from the Écoles des Mines de Nantes.